Small & Medium Enterprise Quality Award
Small and Medium Enterprise Quality Award (SMEQA) is an annual Award to recognize Small & Medium Organizations in Sri Lanka for high Performance. Responsibility of the Award is assigned to the SLSI. Applications are called annually and the applicant organizations are assessed against seven criteria. The Award is based upon criteria created through a public private partnership. This scheme is introduced as a pathway to the Sri Lanka National Quality Award (SLNQA) for Small and Medium Entrepreneurs (SME).
Evaluation Criteria
Applicant organizations are evaluated for seven criteria,
Leadership

This category evaluates the Senior leaders' actions, organizational governance, and legal and societal responsibilities.

Strategy

This category evaluates the Strategic development and action planning and implementation of plans.

Customers

This category evaluates how the company engages with its customers for market place success, how it listens to voice and expectations of customer and long term relationship.

Measurement, Analysis and Knowledge Management

This category evaluates information on how your organization selects, collects, analyses and use data, information and knowledge assists and how you use review findings to improve performance.

Workforce

This category evaluates how the company assesses workforce capability & capacity needs and how you develop workforce to utilize in full with overall business needs.

Operations

This category evaluates information on how your organization design, manage, improve and innovate products and work processes and improve operational effectiveness.

Results

This category evaluates your product performance and process effectiveness results, customer & workforce focused performance results, senior leadership and governance results and results for financial viability and strategy implementation.
This set of criteria is based on the criteria used for the Sri Lanka National Quality Award (SLNQA). These criteria do not only serve as a reliable basis for making awards but also to permit a diagnosis of any company's overall performance of the management system.
Award Categories
The Award has following eligibility categories:
Medium - from 50 to 250 full- time employees
Small - less than 50 full- time employees
Application Requirements
Applicants need to submit
A completed application form and
An application report consisting of an organizational profile and responses to the criteria
Team of Examiners
Reports submitted by the applicants are assigned to teams of examiners who are nominated by SLSI to evaluate them and make recommendations to the Review Committee and prepare feedback reports.
The Teams of Examiners consist of business and quality experts primarily from the SLSI, and also from private and public sectors. Examiners are selected by the SLSI through a competitive evaluation process.
The Review Committee consists of members from the SLSI including Director General and Deputy Directors General and Director of Standards & Services Promotion.
The Panel of Judges is chaired by the Secretary to the Ministry in which the SLSI falls. Other members are Secretary to the Ministry of Industry and the Chairman, Director General and Deputy Director Generals of SLSI, and the President of Federation of Chambers of Commerce and Industry of Sri Lanka and Chairperson or Secretary General /CEO of the Ceylon Chamber of Commerce.
Evaluation and Review Process of Applications
Evaluation and review of application reports are taken through a five stage process as mentioned below: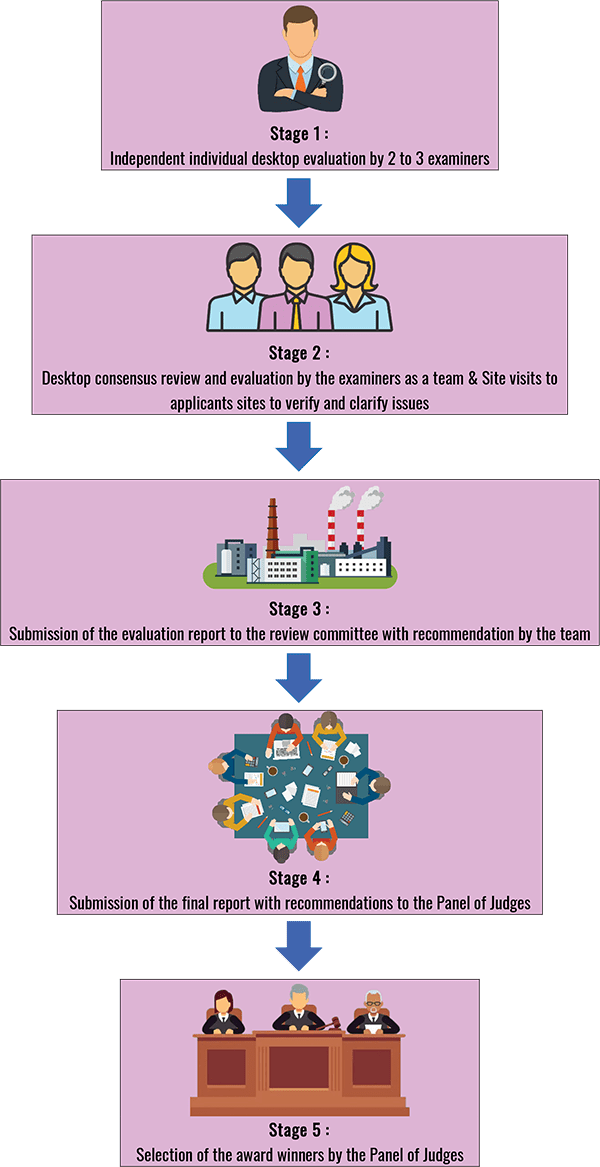 Feedback to Applicants
Each applicant receives a feedback report at the conclusion of the evaluation process. The Feedback is based on the applicant's responses to the Criteria for high performance.
Award Recipients' Responsibilities and Contributions
Award recipients are required to share information on their successful performance and quality strategies with other Sri Lankan organizations. However, recipients are not required to share proprietary information, even if such information was part of their Awards application. The principal mechanism for sharing information is the High Performances Conference.
Application and Processing Fee
For an application for
Medium Sector - LKR 35 000 + Government Taxes
Small Sector - LKR 20 000 + Government Taxes